Saturday, 25 December 2010
The Fendi Abici Amante Donna Bicycle
Fa la la la la around town on Fendi's luxury Abici Amante Donna bicycle; the luxury cycle is fully loaded with leather accessories, a leather GPS navigation holder, key and bike chain cover, and a detachable fabulous Fendi case ($5900). The more deluxe version comes stocked with all the above, plus removable saddle bags ($9500). Get moving in style. Exclusively available at Fendi flagship stores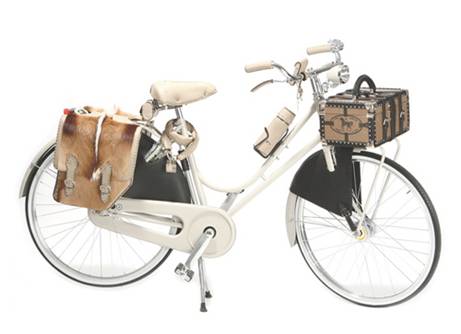 LaLaLuxe Concierge
If she prefers a perfectly planned, luxurious, last minute birthday party in Paris, or dreams of shopping at Dior at dawn, why not give the gift of a further curated life with LalaLuxe. This luxury Purveyor offers personal shopping, wardrobe styling, fine jewelry and private on call concierge services year-round ($300 per hour). This season, slip away for an exclusive shopping getaway via private jet to Vegas, or San Francisco; and if shopping isn't your thing, LaLaLuxe will stock your wine cellar with Napa wines, coordinate a blindfolded cheese tasting with a "fumagier" or cooking lessons at Michael Mina. A perfectly seasoned menu of luxury (From $10,000)...
Read More on http://www.huffingtonpost.com/stacie-krajchir/for-those-who-have-it-all_b_799922.html
Pubblicato da

Sara Tokyo
a 09:00
No comments:

Friday, 24 December 2010
Scarlett Johansson and Ryan Reynolds split
Two years after their

wedding

, Scarlett Johanson and

Ryan Reynolds have called and end to their marriage.

Being two of Hollywood's most promising actors appears to have taken its

toll on the couple.
They looked to be one of Hollywood's best matched couples, but after weeks of rumors Scarlett Johansson and Ryan Reynolds have confirmed inPeople magazine that they intend to separate just two years after they wed.
"After long and careful consideration on both parts, we have decided to end our marriage," the actors confirmed via a joint statement. "We entered our relationship with love and it is with love and kindness we leave it. While privacy isn't expected, it's certainly appreciated," they add.
A source has revealed to the magazine that the couple have been estranged for the last six months when the actress began looking for a new apartment in New York. She is currently holidaying in Jamaica with a group of friends.
Meanwhile, Us Magazine has signalled that the reason for the couple's split was owing to the amount of time they were forced to spend apart due to their professional commitments: "The biggest problem in their relationship was the distance," explained a source close to the couple, who also confirmed that Johansson "has been happy" over the past few months.
26-year-old Johansson and 32-year-old Reynolds announced their engagement in May 2008 after they had been dating for a year. They married four months later in a small ceremony held in Canada, Buriedstar Reynolds country of origin. The couple's split marks the end of one of Hollywood's most attractive couples of recent times.
Pubblicato da

Sara Tokyo
a 11:55
No comments:

Wednesday, 22 December 2010
Best Dressed: Blake Lively And Kim Kardashian In Versace And Versus - Fashion Forum - StyleBistro
This week was pretty easy, when I saw Blake Lively and Kim Kardashian photos from Lorraine Schwartz's "2BHAPPY" jewelry collection launch last Monday - I knew the two would have Best Dressed in the bag.
Blake Lively is wearing an amazing
Versace Spring 2011 nude dress
(so unfortunately matched by horrible make-up and hair) and Kim Kardashian is wearing a more sassy, albeit a size too small,
Versus Fall 2010 black velvet mini-dress
.
Who would have thought a Versus dress would be picked for Best Dressed. Now that Christopher Kane designs the Versus collections - I think it will be happening more often.
Read more on http://tinyurl.com/2ev3yc8
Pubblicato da

Sara Tokyo
a 11:15
No comments:

Anushka Sharma, Ranveer Singh: Adorable at Big Star Entertainment Awards
December 22, 2010, (Sawf News) - Band Baaja Baaraat co-stars Anushka Sharma and Ranveer Singh charmed at the debut Big Star Entertainment Awards in Andheri, Mumbai on Tuesday, December 21.
Anushka Sharma flaunts her towering figure in blue Versace mini dress. Photo Credit: Sawf News
Anushka looked gorgeous in a blue and black Versace colorblocked long sleeve dress; Ranveer was dressed to kill in black suite.
Anushka paired her body hugging mini dress with black strappy caged heels, black clutch and light jewelry - stud earrings and two rings on her right hand.
Her waist length hair, styled with a deep side parting, draped her back and cascaded down her left shoulder. Blue eye shadow and bronze lipstick rounded her alluring looks.
read more on http://tinyurl.com/2v5bpm7
Pubblicato da

Sara Tokyo
a 11:14
No comments:

Luxury Abounds in Books on Vuitton, Savile Row, Extreme Golf, Zeffirelli - Bloomberg
Luxury Abounds in Books on Vuitton, Savile Row, Extreme Golf, Zeffirelli
By
Jeremy Gerard
-
Dec 22, 2010 6:01 AM GMT+0100
In March 1905, Georges Vuitton dared escape artist Harry Houdini to pit his skill against a handmade trunk bearing the Vuitton family name.
"Sir, I take the liberty of challenging you," he wrote in a newspaper ad, "to get out of a BOX MADE BY ME, NAILED SHUT after you get in by MY STAFF, and tied with ropes." Houdini doesn't seem to have taken up the offer, aware, no doubt, that the LV brand stood for goods even tougher than he.
"Louis Vuitton: 100 Legendary Trunks" (Abrams) is as luxe and quirky as the luggage produced by the house since 1854, when Louis Vuitton opened his shop on the rue Scribe in Paris. Here are the trunk custom made to transport diva Lily Pons's 36 pairs of shoes and a black trunk emblazoned with a life-size penguin ordered by the avant-garde director Robert Wilson.
There's even a trunk made expressly to carry a Sony PlayStation 3 and all its accoutrements.
Bespoke!
And here is Michael Caine, Alfie himself, in a sleek black double-breasted suit tailored for him by Douglas Hayward.
The photo is a standout in "Bespoke: The Men's Style of Savile Row" (Rizzoli). In a changing fashion world where "custom" fittings are done by computer, it's practically nostalgic to revisit the likes of Gieves & Hawkes and a time when hunting outfits included a top hat and silk cravat. Jude Law knows (he's here, in Kilgour), as does David Beckham (in Timothy Everest).
Read more on Bloomberg http://tinyurl.com/23zaasx
Pubblicato da Sara Tokyo
a 11:12
No comments: